Lah Dee Dah Designs
A little about Lah Dee Dah Designs~
Lah Dee Dah Designs was established by Anna Villarreal Garbis. She specializes in custom hand-painted murals for children's rooms as well as faux finishes and decorative painting. Anna has taught art appreciation and drawing through Young Rembrants at the West Suburban Montessori School in Oak Park, Illinois as well as at the Elmhurst Art Museum in Elmhurst, Illinois. She has also worked as a Design Consultant with Bassett Furniture. She has work on display with the Saatchi Gallery in England as well as at the Karen Solem Gallery in Elmhurst, Illinois.
Custom hand painted murals & faux finishes ~
Murals are custom designed to fit any room on any budget. A mural can be designed around existing fabrics, furniture and artwork. Your mural can be as simple as polka dots and stripes or as intense as the depths of the ocean!
Faux finishes range from simple color treatments on walls to decoration for furniture and accessories. The sky is the limit!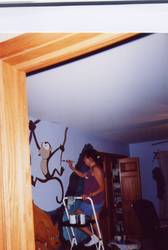 Above: Painting a jungle mural for a playroom
Below: A glazing technique to envoke the feel of aged denim or canvas...
Contact Information ~
Please feel free to contact Anna with any questions at:
630-464-4326
Or email: